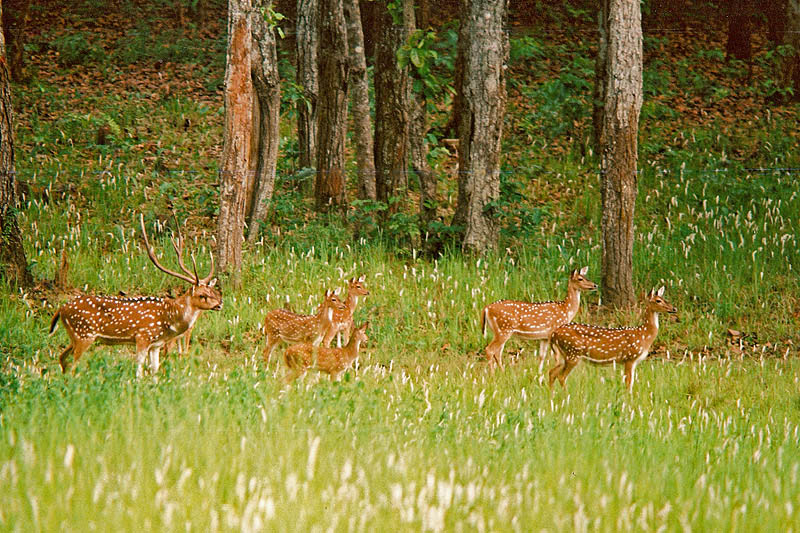 Simlipal National Park is located at the center of Mayurbhanj district in the North-Eastern part of Odisha. It is situated at a distance of 250 km from Kolkata and 320 km from Bhubaneswar. Surrounded by deciduous trees and Sal forests, Simplipal National Park has 12 rivers running across it. Characterized by thick wooden slopes, ridges, luxuriant grassland and beautiful waterfalls; the park is nestled amidst picturesque hills. A wide array of plants as many as 501 species are housed at the park, out of which 82 species are of Orchids. The Park is a viable source for countless medicinal and aromatic plants also.
Simlipal was acknowledged as a tiger reserve in 1973 and a sanctuary in 1979. One of the 18 tiger reserves of India, it occupies a total area of 2,750 square kms.
Simlipal National Park is a safe haven for Leopard, Gaur, Elephant, Langur, Barking and Spotted Deer, Sloth Bear Mongoose, Flying Squirrel, Porcupine, Turtle, Monitor Lizard, Python, Sambar, Pangolin, Crocodile and Four horned Antelope. Around 230 species of birds like the Grey Hornbill, Indian Pied Hornbill, Malabar Pied Hornbill, Indian Trogon, Red Jungle Fowl, Hill Mynah, Peafowl, Alexandrine Parakeet, and Crested Serpent Eagle are found here. The National Park is also home to a large number of reptiles including snakes and turtles.
The other attractions of the Simlipal National Park are Mugger crocodiles at Jashipur apart from Barehipani and Joranda waterfalls. The park is a treasure house of 1076 species of plants belonging to 102 families. 96 species of orchids have also been identified here.[3] It has a mixed type of vegetation known as Orissa semi-evergreen forests with tropical moist broadleaf forest and tropical moist deciduous forests with dry deciduous hill forest and high level Sal forests.[1] The grasslands and the savannas provide grazing grounds for the herbivores and hiding place to the carnivores. The forest boasts of innumerable medicinal and aromatic plants, which provide a source of earnings for the tribal people. Eucalyptus, plantated by the British during the 1900 are also found.[3] A total of 42 species of mammals, 242 species of birds and 30 species of reptiles have been recorded in Simlipal National Park.
| | |
| --- | --- |
| Tiger | 98 |
| Leopard | 115 |
| Elephant | 449 |
| Spotted deer | 2500-3500 |
| Barking deer | 4000-4500 |
| Mouse deer | 1500-1800 |
| Sambar | 7000-9000 |
| Gaur | 850-950 |
| Wild boar | 10000-10500 |
| Langur | 250 Troupes |
| Wild Boar | 2900 |
| Rhesus macaque | 75 Troupes |
The major mammals include Tiger, Leopard, Asian elephant, Sambar, Barking deer, Gaur, Jungle cat, Wild boar, Chausingha (four horned antelope), Giant squirrel and Common langur.[citation needed] 231 species of birds nest in these forests. Red Junglefowl, Hill Mynah, Peacock, Alexandrine Parakeet, Crested Serpent Eagle are the commonly found birds. The Grey Hornbill, Indian Pied Hornbill, Malabar Pied Hornbill and Indian Trogon are also found in the reserve.[citation needed] Apart from the large number of mammals and bird species, the park has a sizeable population of reptiles, which includes snakes and turtles. The "Mugger Crocodile Management Programme" has helped the Mugger crocodile (Crocodylus palustris) to survive and flourish on the banks of Khairi river.
The crocodile rearing centre at Ramtirtha near Jashipur is an additional attraction. Simlipal also provides succor and shelter to thousands of tribal people living on the fringe. A glimpse of the tribal culture will therefore be a bonus at no extra cost. An epitome of fascinating beauties, Simlipal beckons one to trip of lifetime .A rejuvenating trip to its wilderness are bound to remain fresh in every tourist's memory for ever.
Note:
Entry permits are required to visit the park. One needs to apply in advance for permits. The permit can be obtained from Field Director, Simlipal Tiger Project.