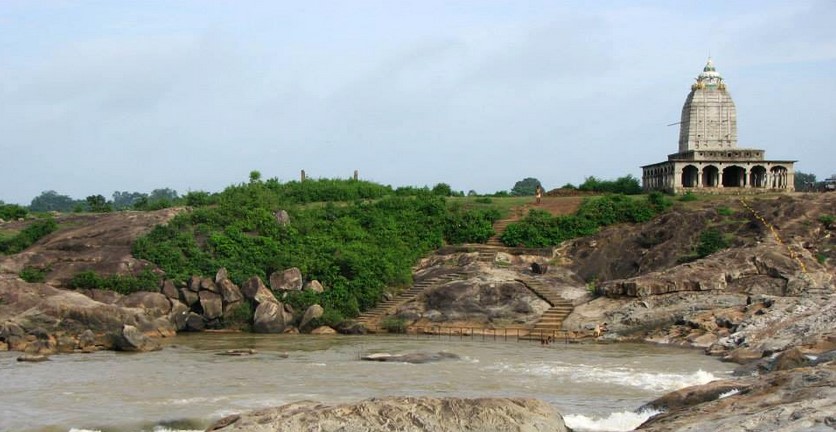 Ramatirtha of Mayurbhanj:-
Ramatirtha of Mayurbhanj is very famous in Odisha due to its natural beauties and temple of Sri Rama. As per the Indian mythological history, during the days of Tretaya Yuga, Lord Sri Rama along with Devi Sita and Brother Laxman passed thorugh the forest of Similipal; where due to tiredness Sita sat on the platue for a while and she wash her face and feet in the river that flows beneath. Then onwards, Ramatirtha of Mayurbhanj became a legendary place in the name of Sri Rama and Devi Sita. Every year on Makar Sankranti (Mid of January), Mahanta peoples celebrate Tusumelana festival or Tusu Parab. Tusu is a type of tribal and local song, on which the people used to dance in a group. At the age of Moghuls, the Hindus were tormented by the King Kalapahad; they used to abduct beautiful women for lust. At that time, one beautiful tribe lady jumped into the river by forfeiting her life from the Mughal soldiers. Her name was Tusumani, on behalf of which the Tusu Parab was being celebrated every year commit to memorize her.
Ramatirtha of Mayurbhanj: Tourist information
Ramatirtha is located nearby Jashipur town of Mayurbhanj district of Odisha. Ramatirtha is located beneath the feet of Similipal National Park. It is the only Crocodile Rearing Center of Mayurbhanj district which attracts lots of tourist to visit. Mayurbhanj district is fully sheltered with vast natural resources and exquisites, that attracts lacs of tourist every year. In 1979, govt of Odisha first planned to nurture crocodiles in the rivers of Similipal forest; for which 115 crocodile babies were brought from Tamilnadu Crocodile Bank. In between 1984 to 1987, 1517 nos. of crocodile eggs has been collected. On 1988, 12 baby crocodiles were brought from Nandankanan Zoological Park, Bhubaneswar. The crocodiles kept at Ramatirtha of Mayurbhanj are very exceptional kind; which called as 'Mugger Crocodiles' (Crocodylus palustris). 'Mugger' is the corrupted word, derived from sanskrit word 'Makara' which means 'water monster'.
Ramatirtha of Mayurbhanj: How to reach there?
While coming from Kolkata to Mumbai on NH-49, you will reach at Mayurbhanj's Jashipur block square; from there Ramatirtha is only 1 km. By rail you need to get down at Keonjhar railway station; later need to come by taxi or bus to Ramatirtha which is around 60km from there. There is a staying facility 'Devasthali Yatri Nivas' of forest dept at Ramatirtha or hotels available at Jashipur town.
Nearyby tourist places of Ramatirtha of Mayurbhanj
The other tourist places nearby Ramatirtha are Similipal National Park, famous waterfall at Barehipani, old and ancient mutts at Jahipur, Suleipat dam and the nearest places such as Bhimkund, Kesharikund, Benisagar, Khiching etc. The tourist places nearby Ramatirtha and itself can be visited at any occasion and throughout the year.